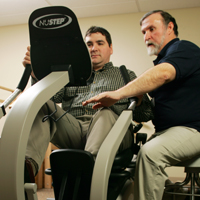 WJ Mangold Memorial Hospital Lowers P.T. Prices
At it's meeting on April 28th , the Lockney General Hospital District Board received a report from CEO Vince DiFranco showing price comparisons of Physical Therapy services with various other hospitals. Based on that data, the Board decided to lower Physical Therapy (PT) charges on key and frequently used services by 20% to 30%.
"I had heard complaints about our PT charges from patients that wanted to use our services", stated DiFranco. "With many hospitals publishing their chargemaster on their website, I was able to research and compare charges for Physical Therapy". "We have excellent staff in our Physical Therapy Department and have great outcomes with patients, so it was disappointing to hear that some patients were seeking care elsewhere only because of cost", he said.
The WJ Mangold Physical Therapy Department offers many services to improve function and mobility for patients including recovery from sports injuries and surgery. They are also the only facility in the region with a certified pelvic physical therapist to assist patients in pelvic issues such as pelvic pain, incontinence, pre/post partum issues, and prostate issues.
The research DiFranco performed confirmed that the patient feedback was accurate. He then prepared a report with a recommendation that prices be adjusted to more closely match the charges at other facilities. "I appreciate that patients called to share their experience with me", DiFranco said, "now we have removed that reason and more people can use our excellent PT Department".